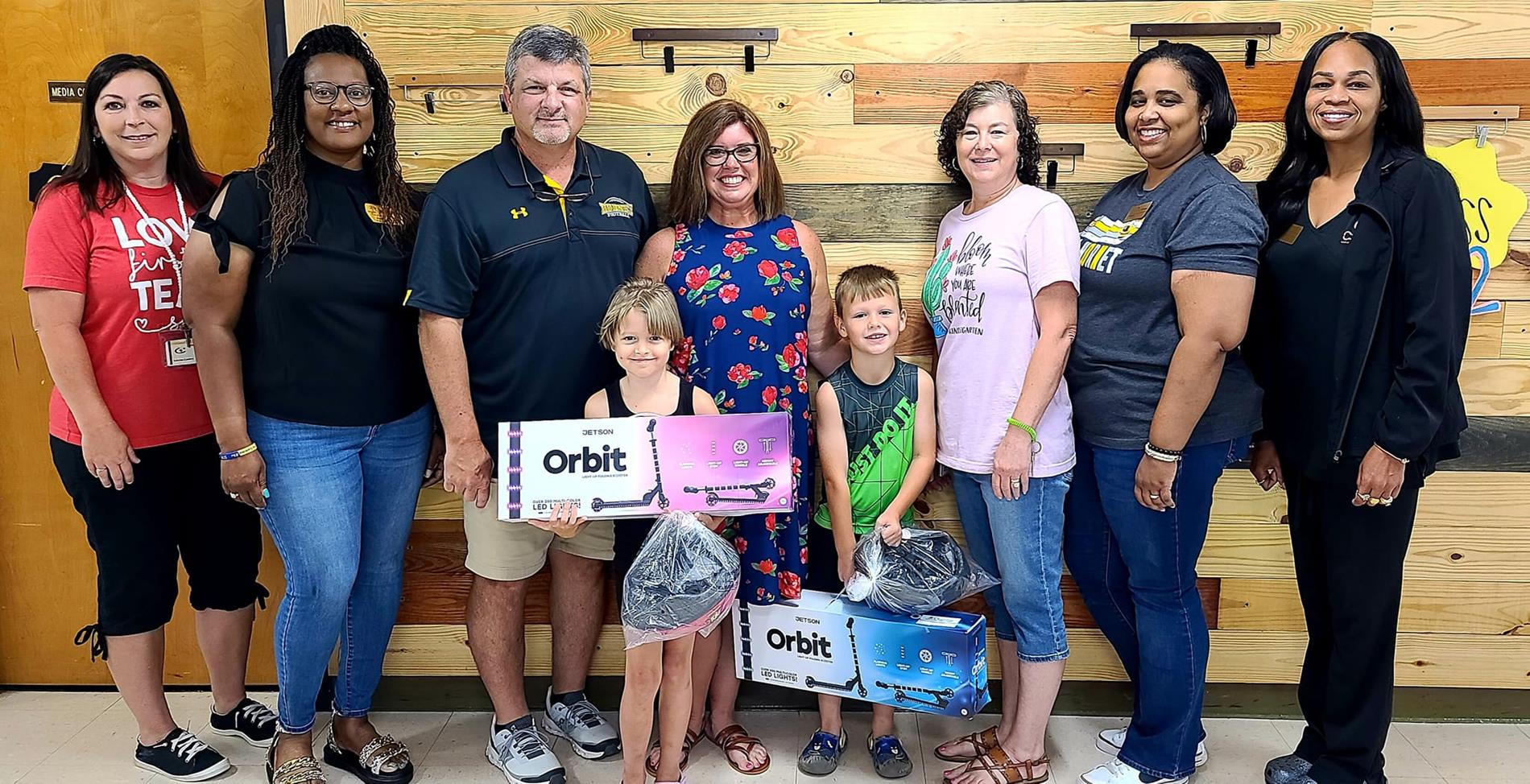 Kindergartener Payden Smith and 2nd Grader Elyzabeth Anderson, students at Cook Primary School, were recipients of brand-new scooters compliments of the Adel-Cook Chamber's Education Committee awarded at the last Bee Hive Bash of the school year. Payden is a student in Ms. Cyndee Cowart's class and Elyzabeth is a student in Ms. Sabrina Lindsey's class.
Every 8 weeks a deserving student is selected in a drawing at the school's Bee Hive Bash to receive the award. The scooters, a popular item with the students, are given by the Chamber's Education Committee as a way to reinforce good behavior, good attendance, and good academics among the students. Close to 750 students are eligible for the prize at any given time and the winners shine as great examples of the fact that hard work always pays dividends.
Pictured L-R: Teacher Sabrina Lindsey, Chamber Board Member Shamika Durden, Principal Leslie Folsom, Award Winner Elyzabeth Anderson, CPS Assistant Principal Jeanne Dixon, Award Winner Payden Smith, Teacher Cyndee Cowart, Chamber Board Members Joi Williams and Candace Horne.
SCROLL DOWN FOR PRE-K
2022-2023
REGISTRATION LINK AND INFORMATION
Cook County PreK is excited to offer
two options for PreK Registration for the 2022-2023 school year - Online and In Person. Parents who choose to complete online registration will need to bring required documents to CPS by March 17. Parent who prefer in person registration need to bring all required documents to CPS on March 17. We can't wait to meet our new Lil' Hornets!
Cook Preschool Registration 2022 for 2022-2023 School Year

March 17, 2022
9:00am-12:00noon-PreK/Extended Day end of the building
12:00noon-2:00pm - CPS Front Office
Online Registration Opens March 1, 2022 on CPS website
*******************************************************************
Documents needed for registration:
Parent/Guardian photo ID
Child's Birth certificate
Child's Social Security Card
Ear, Eye, Dental Screening (Georgia Form 3300)
Immunization Certificate (Georgia Form 3231)
Proof of residency (current lease, property tax notice, homeowner's insurance bill, mortgage statement, current vehicle registration form, utility bill listing residence)
*If residing with a family member, please bring one of the Proof of Residency documents listed above, the family member with whom you reside, the family member must have photo ID and must complete a Proof of Residence affidavit.
*To be eligible for PreK 2022-2023, the child must turn 4 on or before September 1, 2022.